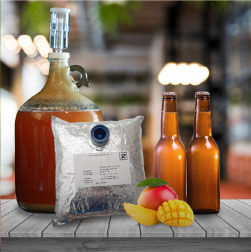 As spring fades into summer, the days are getting warmer and, having a nice cold fruity beer will make everything better. It is the perfect time to make fruity beers at home. With our NEW Acai Berry Purée, you can discover just what your taste buds needed. With this flavor, you get the right sweet earthy flavor that will be the perfect combination for your beers. 
Step 1. Prepare:
Gather all your brewing equipment. It's important to have everything laid out, so you won't forget something you need.
Step 2. Brew: 
Start boiling your Brew Kettle with water (about 2.5 gallons), as the water is heating added in the grains and steeps it in for 20 min or until it reached 170 degrees. Then remove grains and bring kettle back to a rolling boil. Add your malt extracts, until it dissolves. Next, add your Hops and make sure not to over boil once you add then, this will create the wort. The last step of this process is to cool the wort as soon as possible by an ice bath or using a wort chiller. 
Step 3. Ferment: 
Pour the cooled wort into the fermenter with 5 gallons of water. Add your dry yeast and, this is where the Açai Berry Purée comes into play. You mix them and seal it to let it ferment until it gets the right consistency.
Step 4. Bottling:
After fermentation is complete (typically two weeks), it is time to bottle your beers and enjoy them on a hot summer day.