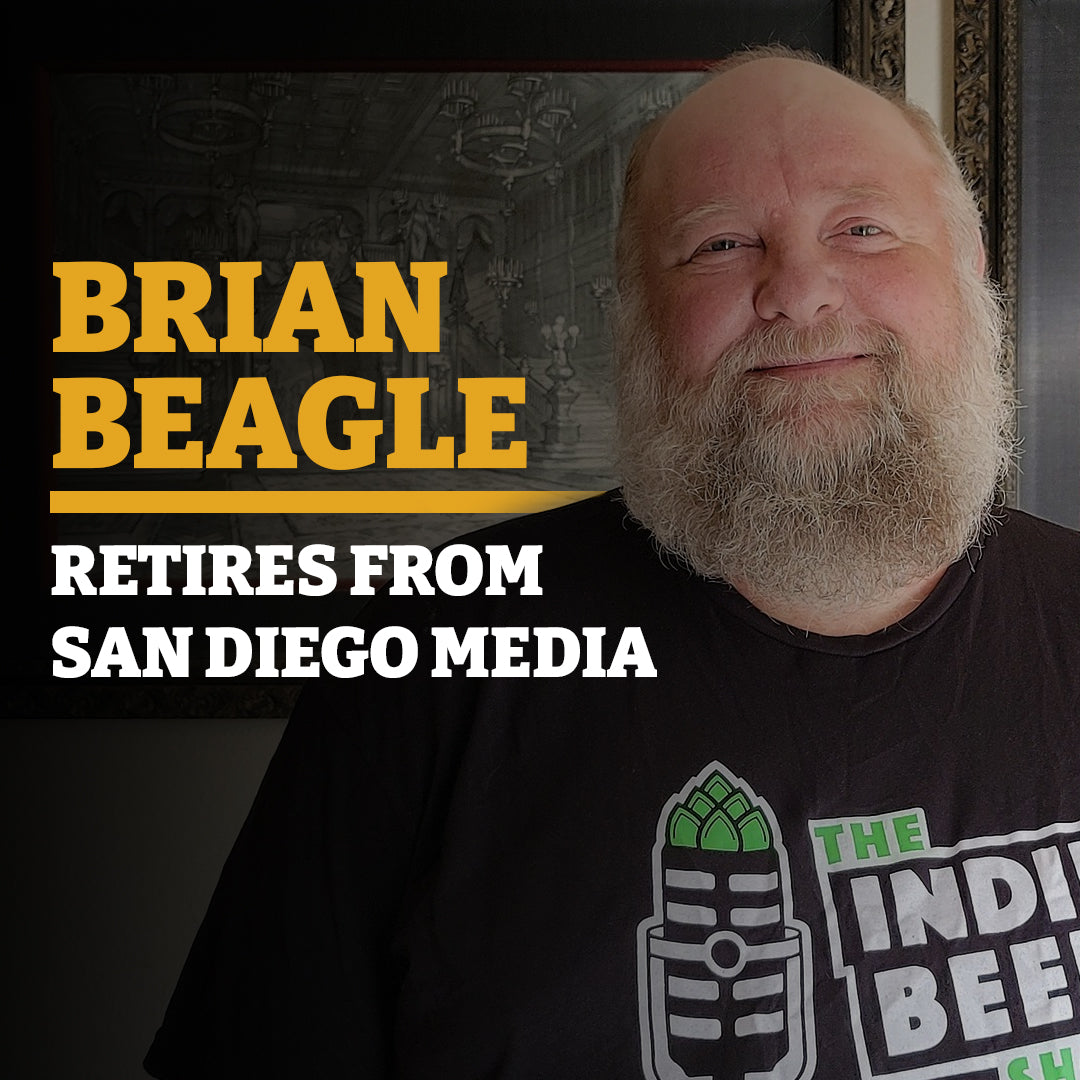 Brian Beagle, a San Diego beer blog writer, in addition to having a podcast, is a key player for beer enthusiasts, because of his love of work he has helped build several beer venues in San Diego and is recognized for his 10 years of work. Brian Beagle decides to retire in the media to focus on personal goals beyond the world of beer.
Brian Beagle is proof that you don't have to own or work at a brewery to make an impact or add to the San Diego beer community. Though not an official member of the industry, he has stitched himself into the local beer scene's fabric by working with breweries on important charity efforts, blogging about San Diego beer, interviewing local brewers via a pair of podcasts and recognizing quality ales care of an annual competition. All that, while aiding in the construction of several brewery-owned venues throughout the county and establishing a private Facebook group that has grown into a key tool for information and communication among brewery employees and beer enthusiasts. While a labor of love, keeping up all of the above amounts to a great deal of work and, after more than 10 years, Beagle is taking a step back, retiring from The Indie Beer Show podcast he launched, effectively retiring from his media role to focus on some goals he has beyond beer. But before he goes, he has a few things to say and a lot of people to thank.
This is Brian Beagle signing off Hello, friends.
For those that don't regularly follow The Indie Beer Show, I'm writing today to say farewell, at least in a sense. I will be stepping away from podcasting soon. My last show is this Thursday, April 1, which, if you're familiar with my much-less-than-serious attitude, makes perfect sense. Luck and hard work have afforded me a whirlwind decade full of advocating for and covering the #SDBeer industry and community. Penning an appropriate tribute to that experience is well beyond my ability to put into printed words. OK, digitally rendered characters, but you get the point. As I look back on my time as a craft-slash-indie beer blogger and podcaster, there are overwhelming sensations of joy, friendship, fun and achievement.
Originally, I was a skateboard and BMX blogger, covering and photographing local amateur events. It was a very rewarding hobby that I highly enjoyed. Little did I know, craft beer was waiting just around corner to tackle-hug me into the fold. It all started when one of my friends, Matt Morrison, the sous chef at the Handlery Hotel at the time, invited me to cover the 2011 Mission Valley Craft Beer and Food Festival (MVCBFF). Prior to this day, my experience in craft beer was limited to imbibing significant quantities of Stone Brewing, Pizza Port, Karl Strauss Brewing, The Lost Abbey and Sam Adams offerings. That quickly changed as I fell into an instant, deep appreciation for and admiration of our local beer industry and, better yet, the community that surrounds it. Two years into blogging, I brewed my first homebrew. That was March of 2013 and I used an extract pale ale kit I got from Home Brew Mart. Yes, it's where many professional brewers' and brewery owners' began. I added jalapeño and serrano peppers to kick it up a notch and, looking back, I can say with confidence, that beer was drinkable, which was enough motivation to dive into brewing headfirst. I have been fascinated by the skills and techniques necessary to take four main ingredients and turn them into delightful beverages ever since. 
More luck has led to being able to collaborate and brew with several San Diego breweries. Some of the breweries and brewers I have enjoyed working with along the way are George Thornton and Jacob Bauch (who is now with Puesto Cerveceria) at Home Brewing Co. We brewed Indie Homebauer Gold and Ryelk, my first-ever collaboration, which was a rye-milk IPA with Galaxy and Citra all the way back in 2015. Yes, we were way ahead of trends on that one! I brewed Gomo Gomo and Rye'd the Dragon with Darrel Brown at Savagewood Brewing. And Pariah Brewing let me brew Intermittent Availability, a batch of my homebrew recipe, Chinout, a collab that included Pat Mcilhenney called Back to the Filter. I love the entire process and feel a large sense of pride in the beers I have been able to share with the public, giggling to myself each time a collaboration was released, especially the few occasions they were packaged. 
A month after that first homebrew batch, in April of '13, I started the Sore Eye Cup, a search for San Diego's best, regularly produced beer. I'm still stoked on every winner, which has included Speedway Stout from AleSmith Brewing, Nelson from the original Alpine Beer Co., Speedway again (since retired to the SEC Hall of Fame), Tabula Rasa from Second Chance Beer Co., Oatmeal Stout from Benchmark Brewing, Treevana from Burgeon Beer Co. and Juice Maze from The Original 40 Brewing. Each of these breweries has their crystal chalice displayed prominently and it is something that gives me a significant amount of contentment.
In September of 2015, I joined a local beer podcast without knowing it would be the perfect culmination of my experience, passion for, knowledge of and overall infatuation with the indie-beer community and industry. This was also the year that began our focus on calling craft beer "indie beer". With Big Beer swooping in to purchase a bunch of craft breweries, my friends over at the Beer Night in San Diego podcast coined the hashtag #indiebeer to represent those breweries that are truly independent. They wanted a term that separated businesses that were major corporations and, therefore, beholden to increasing shareholder value versus focusing on beer quality. We took the importance of informing the public which breweries are truly independent and following the overall goals of a craft or artisanal product, in this case beer quality, seriously. And that effort snowballed. Independent breweries do not have the luxury of economies of scale. Quite the opposite, in fact. While an average Big Beer brewery brews millions of barrels a year, only three craft/indie breweries have surpassed one million barrels. The vast majority, nearly 90% of all independent breweries, brew less than 2,000 barrels a year. Indie breweries need your support far more than their Big Beer counterparts and I have always taken that to heart. Local, independent breweries support or community and we support that effort tremendously.
After more than 145 episodes with the first podcast I was a member of, it was time for a significant change. Much to my delight, Esthela Davila, who was a host of the past show, decided to come with me. This was in late-2018 and, with her help, a new logo and a new producer, The Indie Beer Show was born, and our first episode published in mid-September.
To hear the stories and intentions behind the breweries we support and the beers we appreciate—directly from the owners and brewers--has only intensified my admiration for those that have done it successfully. But after more than 250 podcast episodes, it's time to hang up my headphones.
When the pandemic hit, and recording in person became instantly unfeasible, my crew and I moved The Indie Beer Show to a live-streaming format, and I am so pleased we did. The live format allowed us to continue the show, open it up to guests beyond San Diego County, and most importantly, gave us a connection to each other, friends and fans.
Being a host of The Indie Beer Show has been incredibly gratifying for me and I am extraordinarily thankful for every person that has listened to and supported my effort to spread the good word of independent beer.
BRIAN BEAGLE, CO-HOST, THE INDIE BEER SHOW
That's where I'm going to start my march out of here, with gratitude. There's no way I will get everyone in here but I want to thank my wife, Andi, for being a supportive partner and constantly encouraging my endeavors, the aforementioned Matt Morrison for helping me get started as a beer blogger, chef Karl Prohaska who's events (including the MVCBFF) still stick out as some the best I've attended, Michael Peacock from TapCraft for being the sponsor of the Sore Eye Cup, a massive help with the SD Beer Holiday Food Drive and one of the most generous humans I've ever met, Brian Mitchell for letting me brew so many beers, including one of my own design, at Pariah Brewing, David Martin who didn't hesitate one second when I invited him to be the original TIBS producer, artist Rudy Pollorena for helping with the TIBS logo and being a good dude all around, Steve Billings for letting us record in and giving our fans an awesome preview of The Original 40, Societe Brewing for letting me assist with and grow their food-drive efforts, the Brewers Association for allowing me to attend the Great American Beer Festival, the largest beer festival in the country as accredited media, every single person that has ever listened to me babble about beer and brewing, every TIBS Patron, no matter the contribution, everyone that has ever helped with the logistics for or donated to my food drives, every guest of the show, every brewery that has shared their nectar with us, and my show mates, Abel Garcia, Brandon Hernández and Esthela, all of whom have become much more than friends of mine.
The Indie Beer Show is in good hands and will see success in my absence, of that I am sure. The show must go on, as they say. I will still be around, I'm not going anywhere, just retiring from podcasting. My love and support of indie beer will continue in perpetuity. I cannot wait to have a beer and long, awkward hugs with all my friends once we're clear of the pandemic.
I will leave you with a final thought: Pursue that passion of yours, whatever it is. Within awaits fulfillment, life quality and happiness. Cheers to all!
Apr 26, 2021

Category:

News
Comments: 0